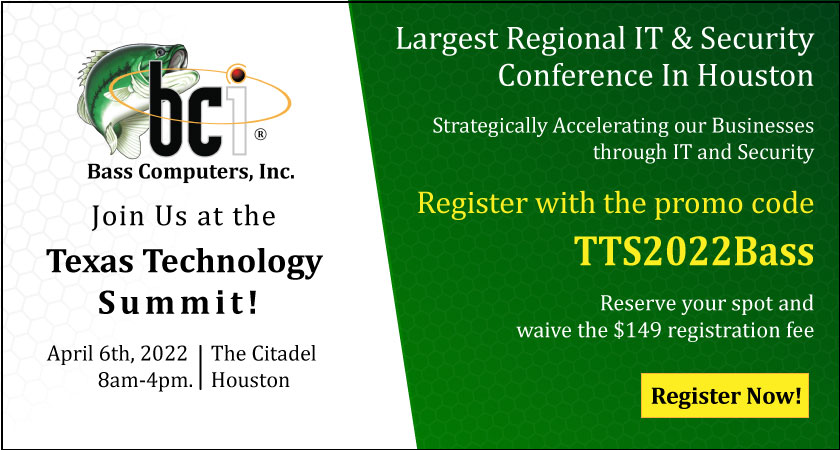 You are invited to receive a complimentary registration (a $149 value) to the 13th annual Texas Technology Summit! The conference will be held at the Citadel Houston on April 6th from 8am-4pm. This B2B summit will feature industry leading IT & Security companies, valuable peer networking and educational presentations on a full range of technology topics. We will be talking about AI & Machine Learning, Cybersecurity, Edge Computing, Hybrid Cloud and more. There will also be food, drinks, prizes, a vacation giveaway and 7 CPE credits for a full day of attendance!

Register now (https://technologysummit.net/register.html) with the promo code TTS2022Bass to reserve your spot and waive the $149 registration fee.
Sessions include:
Panel Discussion: How to Respond to The Great Resignation: Attracting, Retaining & Inspiring the Workforce
CIO & CISO Forums: Leadership Strategies Moving Forward
For IT Executives with VIP Badges
Unitrends Unified BCDR: Why Backup Alone is No Longer Enough
Adam Marget, Product Marketing Manager – Unitrends
Simplifying CyberSecurity
Jonathan Goldberger, SVP Security Practice and Strategic Sales – TPx Communications
IT Infrastructure at the Edge
Mike O'Neil, Manager of Systems Engineers – Scale Computing
CIS Controls in the Real World
Ted Gruenloh, Chief Executive Officer – Sentinel IPS
Demystifying Zero Trust and Its Role in Cybersecurity
Danny Jenkins, CEO – ThreatLocker
Hiding in Plain Sight
Michael Bacon, Director of Enterprise Solution's Marketing – Accedian
Presentation Giveaway: Apple AirPods
Ransomware Survival in New Places: Prepare Now and Do NOT Pay
Billy Monroe, Systems Engineer – Veeam
Presentation Giveaway: $100 Amazon Gift Card
Protect the Next Data Explosion from Ransomware
Steven Nalick, Solution Consultant – Arcserve
Achieving Ransomware Protection with Your Choice of Storage
Steve Phillips, Principal Systems Engineer – Tintri
Presentation Giveaway: Nintendo Switch
REASONS TO ATTEND:
• The Texas Technology Summit is the largest regional Information Technology & Security conference in Houston
• 14 eye-opening presentations throughout the day on a wide range of technology and security topics
• 30+ vendors showcasing cutting edge solutions that will benefit your company
• Invaluable networking with peers and others from the Houston community
• 7 CPE credits are issued at the end of the event after a full day of attendance (8am-4pm)
• Did we mention prizes? Not just a grand prize dream vacation getaway, but also many vendor prizes! Ranging from gift cards to $500 worth of technology.
• In addition to your registration, we also provide snacks, lunch, and drinks (alcohol included).
Come and join us for this epic day where there are real people in a real place!