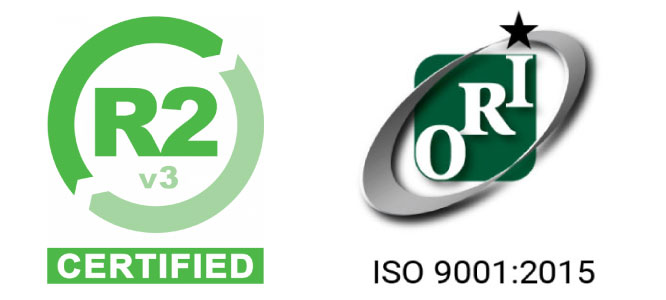 Bass Computers, Inc. is excited to announce that we have obtained the newest version of the Responsible Recycling certification, R2v3, in addition to the ISO 9001:2015 certification!
We have also renewed our ISO 14001:2015 and ISO 45001:2018 certifications.
All of these standards represent our commitment to responsible recycling of electronics, quality control, environmental management, and health and safety.
Since 1991, our philosophy has always been that "we are hooked on customer satisfaction". Our new Quality Management System has helped us connect with our customers more and enhance our customer satisfaction and loyalty. We work hard to continually improve the products and services we provide for our customers and to make sure we meet their compliance needs.
Receiving the new R2v3 certification demonstrates our dedication to responsibly recycling the electronic equipment we receive. We focus on a reuse, refurbish, recycle philosophy, and work with our customers to ensure all of the equipment is processed properly and data is securely destroyed.
We look forward to working with all of our customers for many years and appreciate your business!
To learn more about services and certifications, please visit www.BassComputerRecycling.com To view our new and refurbished products available, please visit www.BassComputers.com
---